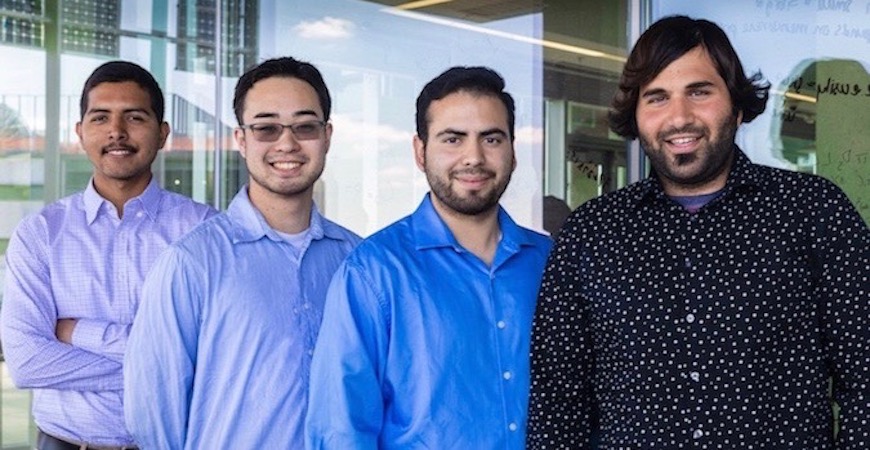 Rediscovering Starlite
Imagine an almost magical material with a thermal barrier so strong it can protect spacecraft from incineration during atmospheric re-entry.
UC Merced mechanical engineering seniors Christopher Toy, David Sagastume, Moataz Dahabra and Luis Soto are working with NASA's Jet Propulsion Laboratory (JPL) on a methodology to rediscover the lost, secret formula for an intumescent material that resists extreme heat.
The material, originally named Starlite, was invented by Maurice Ward in the 1970s. Ward, from northern England, was an eccentric hairdresser and amateur chemist with no formal scientific training. In 1991, using mostly organic ingredients, such as cornstarch and baking soda, Ward famously demonstrated the material on television by holding a blowtorch on a Starlite-coated egg. After 10 minutes, the egg was merely warm to the touch and still runny inside.
Out of concern for the potentially malicious use of Starlite, and to protect his rights to patent, Ward died in 2011 without having brought the material to market — or ever revealing its formula to the public. Since then, researchers and inventors have been racing to replicate the legendary formula.
Now, a team of UC Merced seniors are working hands-on with Thomas Peev, an instruments engineer with JPL to develop a methodology to reinvent the material in a race to discover its properties and ingredients.
"We're close; it's feasible," said Sagastume.
"We're conducting a qualitative study to see what works," said team member Toy. "Figuring out the right mixture is the main challenge; we may even help other inventors recover Starlite technology."
"Most engineering programs include some form capstone design, but few have the strong focus on workforce readiness we have developed at UC Merced."